How do eyelash extensions work?
Eyelash extension is applied to individual natural lashes one at a time with a certified bonding agent. Unlike false lashes, eyelash extension look and feel just like your natural lashes and are for permanent wear.
Whats the difference between open eye and angel wing?
A design where the longest length are placed in the centre and the shorter lengths are placed on the inner and outer corners of your eyes. Suitable for small eyes and droopy eyes. The open eyes style will make your eyes look bigger and rounder.
Angel wing is a design where the smallest length will be placed in the inner corner and will gradually get longer towards the outer corner. This affect will provide you a sexy, confident look. Suitable for big eyes and double eyelids.
How often should you wash your eyelash extensions?
After you've kept them dried for 24 hours. It is recommended that you wash your eyelashes everyday with a non oil based foam facial cleanser.
How do I keep my volume lashes fluffy?
Volume extensions are fans made up of finer eyelashes which makes them more vulnerable when they come in contact with moisture. When they are exposed to moisture, the fans will close up giving your eyes a wet look. In order to prevent this from happening, please be mindful when you are applying makeup, moisturiser and sunscreen near the eyes.
At the beginning of the day and at the end of the day, wash your volume extensions with our foam cleanser, made specifically to remove makeup and excess moisture from the extensions. When you are using the foam cleanser be sure to rub it thoroughly with the brush provided in the brush cleansing kit. Work the brush as close to your eyelids as possible. Rinse with water and blow dry your extensions on low heat. After completing these steps correctly, you will have your fluffy volume extensions back to normal.
Allergic reaction towards the glue, how does it feel and what does it look like?
When you have a glue reaction, you will know the next day. The signs are: sinus, sore throat, runny nose, itchy eyes, swelling eyelids, dried eyes continued for weeks.
If you find yourself having a reaction to the glue, come in and we will try the sensitive glue. If you reaction to the sensitive glue, it is then best to remove all extensions.
We will not re-apply eyelash extensions for you once we've tried all the possibilities to prevent the glue reaction.
How do I know if eyelash extensions are put on correctly?
You will know when you open your eyes after a full set is done. It will feel like there is nothing on your eyelashes. This applies from a classic set to a Glama set.
With volume lashes, if it feels heavy after a fullset is completed, it'll lead to 2 scenarios.
First scenario is that the volume fans are too heavy for each of your individual natural eyelashes.
Second scenario is that they are stuck together or placed on to your skin. You're able to identify this clearly when you shut your eyes tight and you feel like theres something pulling on your natural eyelashes and you'll feel uncomfortable when you blink.
How often should I come back for my refills?
Classic sets (1 singular extension attached to 1 singular natural eyelash) Eyelash extensions lasts longer for those who wear little to no makeup everyday. Clients at Holylashes who keep their extensions well are able to keep their lashes for as long as 3 and a half weeks before they come back in for their refills. Generally we recommend a refill every 2 to 2 and a half week.
Volume extensions requires more maintenances because they are fans made up of finer eyelashes, they absorb moisture a little bit more than the classics. Clients who love their eyelashes full and thick, we recommend 2 weeks. Clients who loves their volume lashes natural to medium thickness, we recommend 2 weeks or 2 and a half weeks.
How do I know if the classic (1 extension attached to 1 natural eyelash) is for me?
1:1 eyelash extension style ranges from classic set to a Glama set.
This look will give you the affect that you have mascara on. It is suitable for everyday wear (classic set) and for those who loves their thick layers of mascara (glama set)
How do I know if the volume extensions is suitable for me?
Volume extensions are fans made up of finer eyelashes.
It is recommended for those who have spares to little natural eyelashes, we will use smaller fans which consists of 4 fine eyelashes to attach to your natural eyelashes. Providing you a natural look for everyday wear (classic volume)
Ladies who loves them to be thick and fluffy (glama volume)
Ladies who loves the thick false eyelash look (goddess set)
What is the goddess set?
Goddess is a set that will use every single natural eyelash on your eyes. This look is the fullest and thickest set we have available. It is made up of volume fans that ranges from 7D-10D depending on the strength of your natural eyelashes. By mixing fans, you will reach the fullest look with zero weight on your eyes.
Will my natural eyelashes get damaged in the long run if I continue to get eyelash extensions?
At Holylashes we pay exceptional attention to the conditions of your natural lashes. We are able to indentify which natural eyelashes are suitable for usage and which ones should not be touch. With this knowledge, we do not interfere with your natural eyelash cycle, therefore, you will be able to come back for refills for as long as you like. Holylashes loyal clients have been with us for over 10 years.
What should eyelash extensions look like?
Results for eyelash extension will vary from individual due to the natural lash condition and the choice of length, thickness and curl. Eyelash extension should look and feel like your natural lashes grow longer and thicker.
How do eyelash extensions feel?
Eyelash Extension should not feel any heavier than wearing mascara if done correctly. There are never any clumps at HOLY LASHES as our glue is quick to dry and the eyelash extension is never applied to the eyelid. So you should not feel the eyelash extensions at all.
Do eyelash extensions hurt?
Yes…only if done incorrectly. Our lash artists are very gentle and experienced with working around the eye area, we will never apply glue to the eyelid or clump the eyelash extensions. In fact some of our clients find it very relaxing and even fall asleep.
How long should eyelash extensions last?
Eyelash extension will thin out over time due to the cycle of your natural lashes and how well you take care of it. When your natural lashes reached the end of it cycle, it will naturally fall out taking the eyelash extension with it, to keep it looking beautiful and full, we recommend a refill every 2-3 weeks.
How to Apply Eyelash Extensions?
The following are simple steps to help understanding how eyelash extensions is apply, there are many health and safety issue needs to take into consideration when carry out eyelash extensions procedures.
You need:
– Make up remover
– Make up remover pads
– Gel eye pads
– Single lashes
– 2 Tweezers
– Jade stone
– Eyelash glue
– Micro pore tips
– Lash wand
– Air puff
Procedures:
1. Clean the natural lashes to remove any residue of oil or moisturiser.
2. Apply eye pads to the bottom lashes to keep it protected from the glue.
3. Use a lash wand to straighten out the natural lashes.
4. Use the tweezer on your left hand side to isolate the natural lashes, with your right hand, pick up an eyelash extension, slide it into the glue and attached to the natural lashes.
5. Now using the air puff, puff the lashes till glue is dry.
6. Repeat both eyes till you are happy with the number of lash extensions applied.
7. Remove the eye pads.
8. Use the micro pore tip to separate any lashes that have been stuck to together.
9. Brush the lash extension straight with the lash wand.
Voilià Lash in a flash
We all know that long eyelashes can make our eyes look bigger, fuller and more inviting, but unfortunately not all of us are gifted with beautiful long natural eyelashes. Thank God for Holy Lashes!! Eyelash extension in a flash.
Holy Lashes Products Range
We offer over 100 different type of lashes, ranging from Classic Silk, Ultra Light Mink, Colour Lashes and Creative Lash Art.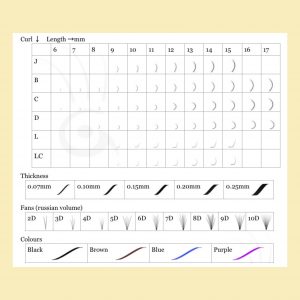 How to Apply False Lashes?
What you need:
– two tweezers
– set of false lash
– false lash glue
– a mirro
– scissor
Procedures:
1. If the false lash strip is longer than your eyes, use a scissor and cut the lashes down to size.
2. Use a tweezer to hold one end of the lashes then apply an even amount of glue to the base of the false lash strip. Make sure you completely cover the base with glue for better adhesive.
3. Wait a few second allowing the glue to become tacky, use the other tweezer to hold the opposite end then apply to lash line. Be sure that both ends of the false lashes fit perfectly to the shape of your eyelid for a natural look. Hold for 30 seconds.
4. Repeat steps and apply false lashes to second eye. Eyeliner can be added for a more natural look.
False lashes is for single wear only.
For a long-lasting Lashes
Visit Holy Lashes. Eyelashes extension made available in various style, colors, and lengths. When have them done by our lash artists at Holy Lashes and no one will ever guess that they're not yours. Eyelash extensions are highly preferred by most women now day because they appeared more natural and there is no worry that they will start falling off or dislocating at the wrong place or time.
Do Holy Lashes do bottom lashes too?
Yes, we do bottom eyelash extension here at Holy Lashes. Bottom lashes extension are only recommended for those who have a quite a full amount of bottom lashes to work with. Sparse bottom lashes won't look as natural once the eyelash extensions are applied and can be known to look "gappy" as they fall out a bit quicker, as opposed to those who have a fuller amount of natural hairs to work with.
Do Holy Lashes do permanent eyelash extensions?
There are always confusion when this question is asked. Yes, Holy Lashes do permanent eyelashes extension but the extension is only semi-permanent due to everyone's natural eyelashes having a cycle of between 60-90 days. The eyelash extension will stay on until our natural hairs fall out, bringing the eyelash extension along with it.

What is the natural lashes cycle?
Our eyelashes are one of the most loved desired features of our face, so when we see one or two lashes fall out on our cheek it can be little unsettling. But it is important to understand that it is perfectly normal for eyelash hairs to shed, just like any other hair on our body. Eyelashes go through a natural growth cycle and replace themselves during a period of between 90 to 120 days, these hairs go through a 3 stage growth cycle and eventually will fall our so a new one can grow. One thing to keep in mind, in our bundle of lovely eyelashes we have a mixture of all three stages happening at one time and we refer to these as the 'baby lashes, medium grown lashes and adult lashes' for simpler understanding terms.
Phase One – The Anagen Phase (Baby Lashes)
Also know as the 'growth' stage, this is generally where the lashes are actively growing and last between 30 to 45 days. This the time period where lashes grow out to various lengths based on individual genetics.
Phase Two – The Catagen Phase (Medium Lashes)
This is know as the 'testing' stage where the eyelash hairs have stopped growing and have reached its desired length and is now settling to being a prefect gorgeous eyelash. During this phase, the hair follicle slowly starts to shrink towards the surface of the skin. This phase generally last between 14 to 21 days.
Phase Three – The Telogen Phase (Adult Lashes)
Now is the 'shedding' phase. This is generally where the eyelashe hair lives the longest, lasting up to 90 to 120 days before it naturrally fall out. During this period, a new hair will grown from the follicle underneath and naturally push out the existing when the time comes.
Re-Growth
Yes, eyelashes will always grow back as long as there is no permanent damage to the follicle. Keep in mind that depending where the lash is in the cycle, it can take up two months for a lash to re-grow. Also note, that when a clump has been plucked out (or badly damaged especially from bad application of eyelash extensions) each hair will take a different amount of time to grow back. Damaged hair follicles may result in permanent loss of eyelash hair growth.
How do I know when my lashes is done correctly?
– The procedure should be relaxing and comfortable
– You should not feel any tugging or soreness when you open your eyes
– The eyelash extensions should look and feel like your natural lashes have grown thicker and longer
– There should be no clumps to the new lashes extension
– You should be able to brush through the new lashes extension without any tugs
Can I apply eyelash extensions to my own eyelashes?
We highly recommend that you visit a professional if you want eyelashes extension applied. The procedure can be poorly resulted in having a bad set of eyelash extensions when they are incorrectly applied. The eyelash extension glue is fast dry and can damage the eye area and skin severely if used incorrectly. Also, tools such as the sharply pointed tweezers can have a safety threat when used around the eye area, incoordination control may lead to these tools being harmful to the eye if you have injured yourself by accidental stabbing. However we can recommend if you want to put lashes on yourself you should try clusters, you can attach them using temporary non-permanent eyelash glue and they can be removed at the end of the night. They are more durable, application-safe and temporary for a one-off use.
What are Clusters? And how are they different to individual eyelash extensions?
Cluster lashes are clumps of false eyelashes bound together in a "v" shape. Clusters come in various densities as well as lengths and are much easier to apply successfully than individual lash extensions. Additionally, since cluster lashes apply several eyelash extensions at one time, application time is shorter than individual lashes. An experienced professional can apply cluster in about 15 to 20 minutes but the cluster eyelash extensions can also be easily applied at home. Clusters are for more of a temporary use and are not as permanent as individual eyelash extensions.
Are the eyelash extensions applied to my eyelid?
No, eyelash extensions are never applied to the skin on the eyelid and we are very careful to attach them 1mm off the skin to avoid any skin/eye irritation that may occur.
How are eyelash extensions different to false strip eyelashes ?
False strip eyelashes come in all sort of style, lengths, designs, colours and thicknesses. They are for a more dramatic and fashionable look as opposed to eyelash extensions that are attached on a more natural-long-lasting result. Unlike eyelash extension, strip lashes is faster to apply and is used for single wear only.
History of Eyelash Extension
False eyelashes and eyelash extensions were firstly became popular during the 1990's, for actresses, models and celebrities to enhance their physical appearance infront of the cameras. As their secrets were slowly coming out to interviewers and magazines, it slowly started becoming widely popular in beauty salons all over the world. In the late 1990's, Korea had created the first 'single-lash' application technique which introduced a new world of singular eyelash extensions. this product launched in Vietnam and successfully gained popularity before it launched in other countries worldwide.
I had eyelash extensions done a few days ago and a few lashes have already fallen out, is this normal?
Yes it is normal for a few eyelashes extension to fall out due to the natural cycle of your eyelash hairs. If a few eyelash extensions have fallen out, it just means that those eyelashes have reached the end of its cycle and is ready to drop off taking the new eyelash extension with it.
What do I need to do before my appointment?
– Avoid wearing waterproof mascara
– Don't use the lash curler within 24 hours before your appointment
– Avoid perming your eyelashes to avoid bad perm
Do eyelash extension look the same on everyone?
No, eyelash extensions will look different on every individual due to the shape of your eyes and the condition of your natural lashes. Depending your natural eyelash hairs are the look you prefer, will determine the result of your newly applied eyelash extensions. At Holy Lashes, we have over a hundred of different lash extension for you to choose from.
Are there any side effects associated with getting lash extensions?
Everyone's eyes are different in sensitivity level. We use our professional judgment to determine which adhesive to use on each client to prevent any side effects or discomfort. Taken care of correctly, eyelash extensions can actually improve the health of one lashes.
Is the glue and remover safe?
We are relentlessly endeavouring to develop new innovations without compromising our standards the new development of lash glue has taken intensive research and development along with stringent testing and only using the highest grade ingredients in the most state of the art sterile environment, The new rubber toughened component gives extra strength, flexibility, quick set, without any fumes, increasing both bonding time and longevity, no solvents are used in the manufacture of our lash glue.
Adhesive Specification
Odour: Zero
Fumes: Zero
Flexible: Rubber bond
Colours: jet black
Non-clumping: Medium consistency (glides smoothly)
Suitability: Sensitive eyes
ISO medical approval
MSDS/ EC data sheets available
Do eyelash extensions make my natural lashes fuller?
Eyelash extensions will make your lashes appear fuller and thicker, it does not increase the number of lashes that you have because extensions is attached to your natural lashes to create a new thick and long lashes on the existing natural hairs you already have.
What are the benefits of eyelash extensions?
– Reduce beauty routine time and convenience
– Semi-permanent, so you don't have to worry like false lashes that can slip and misplace off the eyelid
– Add definition to the eye, making your eye appear younger and lively (some ladies say it's like an instant eyelift!)
– Add confidence to your look
How do I take care of my eyelash extensions?
Refer to the 10 Commandments for detail on how to take care of your new eyelash extension.
Can the extension be removed?
Yes, eyelash extensions can be safely removed without damaging the natural lashes by using an eyelash remover. The remover will dissolve the glue allowing the eyelash extensions to gently slide off.
What is eyelash transplantation?
Eyelash transplantation is a safe, effective way to restore living and growing lashes to your eyelid. Eyelash transplantation can be used to enhance short, thin, spare or otherwise 'weak' lashes. It is a surgical procedure that is recommended for those who may have suffered loss of eyelash growth or permanent damage. NOTE: Transplanted lashes grow LONG and will therefore need to be routinely trimmed (and perhaps curled).
Can I wear make-up to my appointment?
Definitely, just make sure you bring your make-up with you to the appointment for touching up afterwards. During the procedure, we apply an anti-wrinkle gel pad to your bottom lashes to prevent the bottom lashes from getting glue to the top, the gel eye pad might rub off your make-up underneath your eyes.
I had my eyelashes permed a few days ago but it does not make my lashes appear fuller, can I get eyelash extensions put on?
Eyelash extension can be applied to permed lashes if the perm has been done correctly and it has not damage your natural lashes. In the event where natural lashes have been crinkled up due to the result of a bad perm, then you must wait until the new eyelash cycle to grow through before eyelash extensions can be applied.
What is eyelash lift?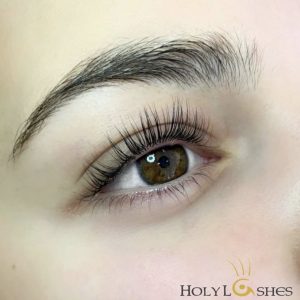 Eyelash perming/lift is a chemical process of curling the natural lashes. The procedure takes about 30 minutes and the result  last 6-7 weeks. Lash Lift only add curl to your natural lashes. For a longer, thicker lashes, we recommend eyelash extension.
Can I perm my eyelash extensions?
There is no need to perm your eyelash extensions as the lash extensions come in different length, thickness and curl, your eye lash stylist should consult with you before the procedure in order to create the look you desire. Eyelash extensions can not be perm because any pressure you put on the lash extension will encourage it to fall out prematurely.
Can I tint my eyelash extensions?
First of all, you won't be able to tint eyelash extensions because it is made from a synthetic fiber and it will not be able to absorb the tint.
Secondly, you should avoid putting pressure onto the new eyelash extensions as this will result in eyelash extension falling off prematurely.
Thirdly, eyelash extensions come in different colour, so you can choose the desired colour when getting the eyelash extensions so there is no need to tint your lash extensions. If your natural lashes is light in colour, you can tint your natural lashes before eyelash extensions is apply.
Does eyelash tinting give the same result as eyelash extensions?
Eyelash tinting only make light coloured lashes appear darker, it does not give length or thickness to your lashes. For a longer, thicker lashes, we recommend eyelash extension.
Can I wear make-up after having the eyelash extensions applied?
You can apply make as usual, just remember to avoid eye make-up with oil base around the eye area. When removing make-up, again remember if you use an oil based make-up remover, avoid contact to the eyelash extensions.
Is threading painful?
Threading can be painful due to it is plucking hair out from the follicle, but having it done professionally can make it quick and painfree.
Does mascara only come in black?
Mascaras can vary in all sorts of colours. Black, brown and clear are the most commonly used colours but colours can vary from all sorts of colours in the rainbow. Using the right mascara can enhance different looks depending on your hair colour, skin tone and especially eye colour. Mascara is generally used to darken, thicken and lengthen the eyelash hairs and open up the eye.
Black mascara, the most popularly used is the most suitable to wear in all occasions and for every lady wanting to darken up their eyes. Black mascara is also most suitable for ladies who are fair skinned and have fair colour eyelashes (and generally have light coloured green or blue eyes), black mascara will and draw more light to the light-coloured eyes. Brown mascara would be suitable for ladies with dark to brown coloured eyes for a more natural look during the day.
Coloured mascara are suitable to use for evening nights out or ladies who love to make a statement! Definitely for the ladies who love extreme and definitely not for the conservative! Choosing the right colours to highlight your eyes are also another way to accentuate your eyes. Light coloured eyes can be highlighted with bright warm colours like red, orange, pink or even yellow, where as dark coloured to brown eyes can be suitable to more cool blue, purple and green colours.
Clear mascara can be worn for a long-lasting hold to curl and add shine to your lashes. Great for an everyday natural look.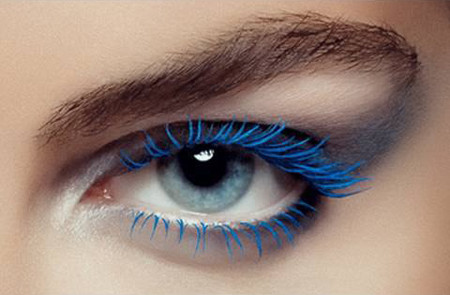 I heard petroleum jelly is good for the eyelashes, is it true?
Petroleum Jelly is considered one of the effective eyelash products. Even if there is no definite evidence that will support claim on how petroleum Jelly can boost eyelash growth. Petroleum jelly can help in conditioning and moisturising the eyelashes. You just have to gently apply them onto your lashes and expect them to look healthier and glossier.
I have had a bad set of eyelash extensions done somewhere else, they feel heavy, clumped and my eyelids are sore. What should I do?
Unfortunately, there are a number of unqualified and inexperienced technicians who do eyelash extensions. If you are a victim of bad eyelash extensions, it is important not to rub or pull on the eyelash extensions yourself, your natural lashes can get damaged when they have been intentionally plucked out. Ask the technician who applied them on in the first place to remove them for you, or you can come and visit Holy Lashes where we can remove the lash extensions for you without damaging your natural lashes.