To achieve highest standards of customer satisfaction, Holy Lashes swears by the following core values:
Quality:
We search for the highest quality products in the market and our glue is long-lasting to ensure that your eyelash extensions will last the full cycle of your natural lashes.
Focus:
We specialise in eyelash extensions to deliver fast and better results. Semi-permanent eyelash extension are applied individually onto a single natural eyelash. We are highly trained to look after the health of your natural eyelashes, ensuring that there is no clumping of the eyelash extensions.
Delivery:
Our team is friendly and flexible. We will personalise each set of eyelash each set of eyelash extensions to give you the perfect look, without damaging your natural lashes.
Keep them guessing with the Classic set

This design is perfect for ladies who love their lashes subtle, but still luscious looking. Effortlessly natural looking beauty that will keeps them guessing. This set is like you've always got mascara on.
Price: $99
(Add $20 for russian volume)
2-3weeks refill: $50 – volume $60)
Angel Wing – the name says it all: flirty, sexy with a wing effect

Want something a little different in your look but not too over the top? Add some edge to your lashes with this naughty little set. Guaranteed moderate fullness with longer lashes on the outer ends of the eye to give you a sexy cat eye look..
Price: $130
(Add $20 for russian volume)
2-3 weeks Refill: $65 – volume $75
Give your lashes the WOW factor with our Glama Eyelash Extension Design

Need a boost in your confidence? This Glama set is most suitable for ladies who want a little more than just a natural look. Longer, thicker and fuller lashes is what this set is all about. If you love to glam it up and show it all off, this is the set for you.
Price: $160
(Add $20 for russian volume)
2-3 weeks refill: $80 – volume $90)
They will worship you with the Goddess look

Want even MORE volume, thickness and length? This design will definitely make you feel like a goddess. Our angels will create a personalized set using hand crafted russian volume fans in different lengths and thickness specifically suited to your own lashes. This look is recommended for ladies who love extreme fullness and have the confidence to show it off.
Price: $220
2-3 weeks refill: $110
Lash Studio
We offer over a hundred of different types of lash at Holy Lashes, the chart below are based on availability of black lashes only. Colour lashes as well as lash gems and creative lashes may vary between stores due to its demand.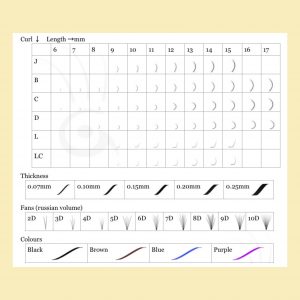 Style & effect
Doll Eyes or Open Eyes are recommended when choosing the structure of the lash extensions. With the longer lashes in the middle and shorter lashes on both sides, this gives the effect that the eyes are big, round and open up.
Cat Eyes effect are for ladies who know exactly what suit then.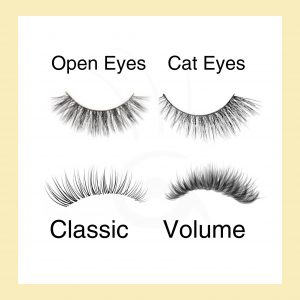 Length, Thickness & Curls
B & C curls are most popular curls, compared to J curls being too much like the natural lashes and D curls being too dramatic. B is in between and C like the name suggest a moderate curl. We select the length, thickness and curls depending on the clients natural lashes and what look they want to achieve. The same length, thickness and curls don't look the same on two different sets of eyes.
For a natural effect, we suggest choosing a length that is 1-2mm longer then the natural lashes. For clients that like it big and long, we recommend length that is no more then twice the length of the natural lashes for longer lasting experience as well as preventing the natural lashes from premature drop out.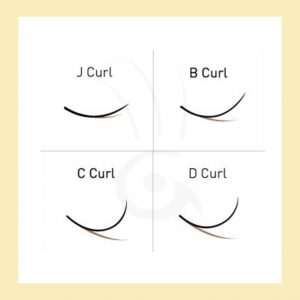 When to use L & LC curls
L and LC curls are not popular curls, we only recommend this curls to clients with monolids or nature lashes that are straight or face downward. Clients can achieve a more dramatic lift with these curls.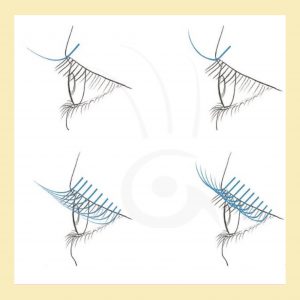 Ultra Light Volume Lashes
Russian Volume does not always mean thick and dramatic. If you only want a FLUFFY/NATURAL effect, we create the Classic Design using 2D-4D fans which is much lighter compare to our DRAMATIC Goddess Design, where we use mega volume fans up to 10D to achieve.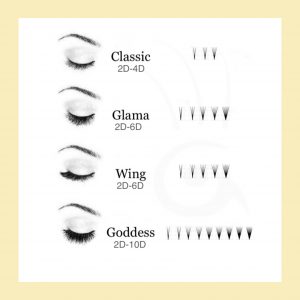 Eyelash extensions will gradually thin out due to the growth cycle of your natural lashes, just like our hair.
A refill is recommended every 2-3 weeks to keep them looking nice and full. But if you're a good little angel and follow the proper care instruction, your eyelash extensions can last up to 4 weeks before you need a touch up.
The dangers of eyelash extensions
Poor application of eye lash extensions  could cost you more than just money! Eyelash extensions are amazing and any person who has them applied on correctly will tell you that. While they are the latest beauty craze in the world of beauty, there are many precautions and facts you should be aware of before deciding to go ahead with the application. It is perfectly safe when done correctly by a qualified and experienced "eyelash technician." Incorrect application can lead to severe eye irritation, discomfort and damage to the natural lash follicle.
When individual eyelash extensions are applied to more than one natural lash, several natural lashes will clump together causing discomfort and irritation. This means you are more susceptible to rub your eyes and most likely pull out a chunk of your eyelash extensions along with your natural lashes. Another factor of incorrect application can be having an excess amount of glue applied onto the eyelids, affecting the mucous membrane of your hair follicle. This causes blockage for your natural lashes to grow freely and disturbs the natural growth cycle.
In more extreme cases, the combination of both irritation and excess glue can cause swelling and lead to eye infections. Severe damage to the hair follicle causes your natural hairs to be permanently damaged and grow back crooked, gappy or shorter than usual. Once your eyes have been irritated, immediate removal is recommended to give your eyes time to heal and receive the care it needs to prevent any permanent damage. The more you rub, touch or play with a bad set of lash extensions, the more infected and swollen your eyes may become.
However, having a set of eyelash extensions applied CORRECTLY by a trained, qualified and experienced eyelash technician will ensure you that you are taking care of the health of your eyelashes while having beautiful gorgeous lashes. A lash expert will know exactly how to work with every different set of eyes and eyelash hairs to prevent any harm. A good set of eyelash extensions are pain-free, and so lightweight you won't be able to feel them on at all. Going to an experienced and knowledge-filled salon will give you peace of mind that they provide all aftercare instructions, educate you with choosing the right set for you based on your natural lash, about safe removal and any other doubts you might have about eyelash extensions!
You might question why some salons may charge such a fee, but a cheap, bad set of lashes can set you back more than just money! Are you willing to risk it? At Holy Lashes we believe in quality service, backed up with exceptional knowledge to look after you and your lashes each and every visit.
"The Angels at Holy Lashes will guide and pamper you so you'll leave looking and felling like a Goddess"